I noticed on
Club Penguin's Wiki
that one of the pages said the Sport Shop is going to be rebuilt this year! As we know the Sport Shop was removed once the Elite Penguin Force or Everyday Phoning Facility appeared in the Ski Village. The page I found says this:
The Sport Shop Rebuilt has been confirmed in a Canadian magazine as a party to rebuild the Sport Shop. The Sports Shop should back with a Field-Op or a Secret Mission. That video shows the Ski Village with Ski Lodge, Everyday Phoning Facility, and Sport Shop near the Mountain. Also, it might be related to Operation:Blackout and EPF Recon Team. The PSA HQ and Command Room are not coming back. The event is set to coincide with the new EPF Recon Team game in August 2012. The Tourist Base will be built, as well as the Recon HQ.
I also saw on this page that a Club Penguin Magazine in Australia has also confirmed the rebuilt of the Sports Shop to come soon! Rory may even become a mascot and make a appearance says Club Penguin! Gary may appear on the island as well (more information on that on a later post).
On the Sport Shop Rebuilt page there is a image that shows where the Sport Shop will be! It will be on the right hand side where no Shop/room is currently at! Here is a image: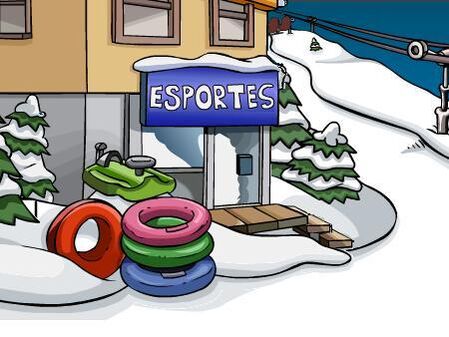 The image above shows that the Club Penguin Sports Shop will be next to the Ski Hill. Hmm... I don't know if it will still look the same inside or if we will be able to buy items in there yet. What do you think? Do you think the sport shop will look the same? Also, what party do you think the Sports Shop Rebuilt will be in? Comment below and tell me -Happyblue128